Well, the New Year is off to a great start. It looks like I'm not going to get Christmas Cards out this year; I'm truly sorry to not have it available to post for you. So, how about a few pictures of my family on our ski vacation at Keystone. It was fun, but it has been so long since I have been on the slopes that a few runs down the bunny and green slopes were good enough for me. We don't get the opportunity to get away like this very often...but I certainly enjoyed watching the boys ski as they picked it up so quickly.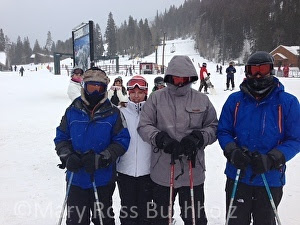 I look forward to what challenges 2014 brings and want to share with you a little something special in the way of articles. Southwest Art magazine wrote an article on me for the Jan. 2014 issue.

The author, Gussie Fauntleroy, expressed my thoughts so well; and I couldn't be more pleased.

I have included the link Here just in case you do not subscribe to the magazine.
I wish you all a healthy and prosperous New Year
!
Mar. 1 to Mar. 23

....Texas Masters at InSight Gallery in Fredericksburg, TX
Mar. 20 to Mar. 23

....The Russell at CM Russell Museum in Great Falls, MT
Thank you to all of my collectors, galleries and supporters!!
"Where the spirit does not work with the hand there is no art." --Leonardo da Vinci
Thank you all for your interest in my blog. If you have any requests for future articles or information, or any questions about my art, please feel free to contact me any time at
www.maryrossbuchholz.com
or at 325-853-3839. And check out some of my new arrivals at
InSight Gallery
and
The Legacy Gallery
. I always look forward to hearing from you.
Best regards,
Mary Ross Buchholz
CONTACTS AND LINKS
To see more of my work and to be the first to see
my current work please view these sites:

www.MaryRossBuchholz.com
If you liked this newsletter, then please forward it to a friend.
If this newsletter didn't come directly from me, and you want to receive future newsletters,
then click
Mary Ross Buchholz e-newsletter